Me time: noun (miː taɪm) A mythological beast that people, who are not related to my children, keep banging on about.
I know that we're all multi-tasking mama's, holding down jobs, looking after our kids, ferrying them to ALL the activities, feeding them, doing all the stuff, and attempting to find 17 seconds to have a conversation each day with our partners, right? Add a job that requires working from the tiny two-bedroom shoebox I call home, often at night, and frequent work travel, and me time is a particularly elusive beast.
Netflix recently conducted research that shows I'm not alone and many mums report that they frequently resort to sneaking in TV me-time while multitasking or even hiding from their kids. Seriously, it seems nowhere is off limits for a mum sneak. Because Netflix isn't just on our TV. It's on our phones and our computers, and these ninja like mamas are snatching precious minutes by hiding in the pantry, watching while cooking dinner and while sit in cars in the driveway. There are even mums who hide in the loo.
But here's my problem. I don't have a pantry or a driveway, and my little stalkers haven't let me pee in peace in their lives. So I barely ever watch anything if it doesn't involve an animated talking animal, lightning-scarred boy wizards, or Avengers. Of course, after the kids go to sleep the programming changes but Mr Eats World tends to be a remote pig. And though he does have great taste in movies, he also tends to go fully bloke with his zombie-infused, shooty-shooty-bang-bang selections and I'm usually finishing a deadline and rarely interested.
The research showed that the Top 12 Netflix Mum Sneak Shows are Orange is the New Black, 13 Reasons Why, Fuller House, How to Get Away with Murder, Gilmore Girls, Stranger Things, Pretty Little Liar, House of Cards, Jane the Virgin, Shameless, Grace and Frankie and The Crown.
Which means that I must not be a regular mum, because besides a few episodes of The Crown (which is actually very good), I've never watched any of these. In fact during the 30 minutes between 11.30pm and midnight I actually get near a screen that's not taunting me with a half finished 1000-word commission, I'm more inclined to tune into Archer, a filthy, acerbic and offensively hilarious animated spy spoof.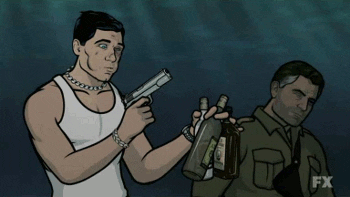 So when and where do I find a little me time?
Generally at 30,000 feet. Even when I'm travelling with my offspring (which is most of the time) they're happily glued to inflight entertainment we've downloaded from Netflix on their own tablets. Meaning, between their gazillion requests for trips to the toilet, I can settle in with a glass of red delivered with a smile by a lovely flight attendant, pop on my headphones, and binge watch my own downloaded Netflix favourites in guilt-free peace.
What does a potty-mouthed, booze-infused and generally anarchistic ratbag mama like me download? I'm glad you asked. With a return trip to the UK under my belt last month, and the kids happily Trollhunting and Luna Petuniaing, I managed to pack my pod with 48-hours of grown up Netflix fabulousness.
I watched a bit of biff, Vikings style.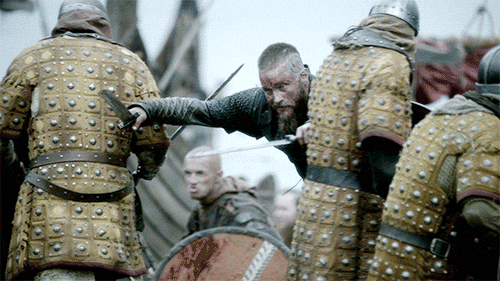 And a few episodes of the new darkly comic, antihero, crimey thingy, Ozark.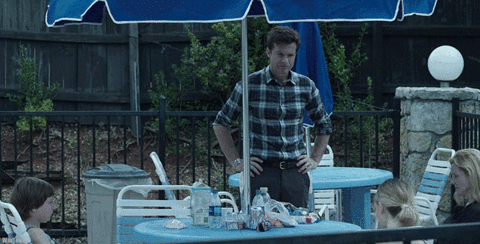 I enjoyed an uninterrupted perve at a buff Brad Pitt in old favourite Fight Club, which I wont talk about because you just don't, right?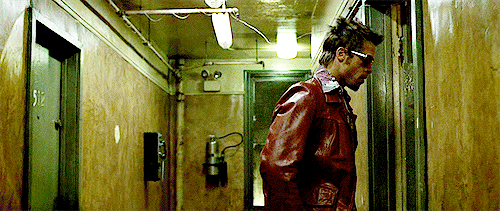 I giggled guilt-free seeing Hermione go bad in the self-deprecating, apocalyptic, stoner comedy, This is the End.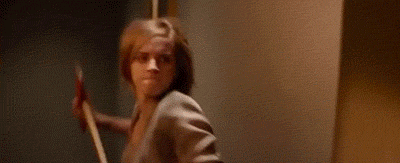 And I watched the slightly unhinged environmental parable Okja, which is not only a brilliant indictment of capitalistic greed, but stars a genetically modified superpig and provides yet another golden opportunity for the wonderful Tilda Swinton to act like a total wack job.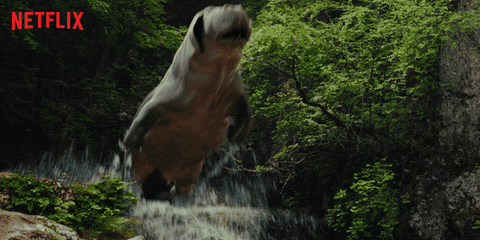 To break the pattern of twisted and unhinged, I also used the flight time as an opportunity for a little edification with The Secret, a documentary where an assembly of writers, philosophers and scientists share the secret that brought success to Plato, da Vinci, Einstein and other greats.
It was interesting watching but I reckon, if they'd lived in our time, their secret would have included downloading and binging on Netflix on airplanes. Because it's freaking genius!
So how about you? Tell me what lengths you go to #mumsneak in me time and what are you watching on Netflix that I should download for my next flight?
Disclosure:  As a member of the Netflix #StreamTeam we received a subscription to Netflix, and while I will be posting regular updates about the service all binge-watching, TV snacking, mum sneaking and opinions expressed will be our own.